As a homeowner who intends to have a new roof in Austin, knowing the price ranges will not only help you prepare your budget, it will also help you weed out exorbitant quotations from some contractors. The quotation you will get depends on a lot of factors, most importantly the type of shingles you want to use for the roof. Keep reading for more information on how much asphalt roofing costs in Austin, TX.
How Much Does Asphalt Roofing Cost In Austin, TX?
Asphalt shingles are still one of the favorites of many homeowners in Austin, Texas. Installing them is still relatively affordable when you compare the prices to other types of roofing materials. Its prices range from $4,000 to $7,000, depending on the size of your house. For instance, most contractors charge roofing per square foot. You can expect to pay $2 to $5 per square foot.
These are estimated prices and it varies depending on the height of the house, the size, its design, and the quality of the asphalt shingles you desire. Moreover, the final quotation you will get from your contractor could include the following cost: labor, clean up, equipment cost, inspection fee, sales tax, and many more. These extra costs depend on the contractor you are hiring. You must discuss extra expenses with any potential contractor before you sign the contract.
How Long Do Asphalt Shingles Last?
If well ventilated and installed properly, your asphalt shingles should last as many years as the manufacturer specified before you think of roof replacement. On average, asphalt shingles' lifespan ranges between 20 to 30 years. Nevertheless, some could last longer than this, especially the premium ones; some manufacturers even boast of a lifetime warranty.
You must ensure that your roof is well ventilated to avoid your warranty being voided by the manufacturer in case you begin to experience problems with the roof within the specified duration of the warranty. You will only have the contractor's workmanship warranty from the local contractor that installed the roof.
Asphalt Shingle Roof Cost in Austin
The price will vary based on different factors. Nevertheless, the prices of most asphalt shingles range between $0.90 to $1.50 per square foot. Moreover, the price of a full set of asphalt shingles ranges from $1,400 to $1,500. However, these prices do not include the cost of installation and other labor costs.
Comparing the Cost of Asphalt Shingles vs Metal Roof
Considering metal roofs for replacement or new roofs involves a lot of comparisons; notably the cost. That is why many people ask different questions about these two types of roofing materials. Firstly, irrespective of the type of roof you opt for, you should know that it is an investment, hence, it will cost you money. The price of a metal roof ranges from $5 to $12 per square foot while an asphalt roof price ranges from $2 to $5 per square foot.
Well, comparing the cost of the two roofs, the asphalt roof will be relatively cheaper. Not only cheaper, but you should also expect that the cost of installing a metal roof will be triple, if not more, depending on the type of metal roof you opt for. Here are a few of the reasons why metal roofs are costlier than asphalt roofs.
Cost of material
This is one of the key factors that makes metal roofs costlier. The price of a metal roof panel is way higher than the price of asphalt shingles. Moreover, installing these metal roof panels on your home requires more skill and labor than the cost of installing asphalt shingles.
Durability
Though both are durable materials and should give you many years of peace of mind before you think about replacement. However, a metal roof is going to last at least 20 years longer than an asphalt roof, if installed and maintained properly. Also, asphalt roofs require regular maintenance annually or biannually but the metal roof does not require much maintenance, though it should be inspected occasionally.
Various Types of Asphalt Shingles
There are three types of asphalt shingles available in the market today; a strip or 3-tab shingles, laminated or architectural shingles, and luxury or synthetic shingles. Each of these shingles differs in price, appearance, and durability. Below are some of the important information on each type of asphalt shingles
3-tab or strip shingles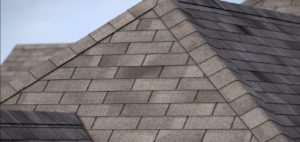 This was one of the dominant shingles you see on homes before the introduction of other types of asphalt shingles in the '80s. Nowadays, they are mostly used by builders who sell affordable homes or homeowners who want to replace shingles on homes where there are already 3-tab shingles. They are referred to as 3-tab or strips due to the cut of the shingles, which makes them look like separate pieces when installed but they are one. They are made from a single layer of asphalt, which makes them weigh less and are cheaper when you compare them with other asphalt shingles. Installing them could be as cheap as $1 per square foot.
Laminated or architectural shingles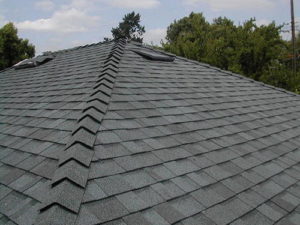 Unlike 3-tab shingles, laminated shingles have no strips or cuts but their lower portions have two or more additional asphalt layers, hence, the reason why they are referred to as laminated shingles. This extra asphalt layer enhances them and makes them thicker and heavier than the 3-tab counterpart. It also improves the waterproof capacity of the shingles and their aesthetics that they look like a slate roof. Installing laminated shingles on your home could cost $5 or more per square foot.
Luxury or synthetic shingles
The luxury singles are of the highest quality between the three types of asphalt shingles. They are made from the combination of asphalt with other materials, which make them thicker, heavier, and look more appealing than the two types highlighted above. They are designed to replicate other roofing materials such as slate and cedar at an affordable price. Installing luxury shingles could cost $9.50 per square foot. For those who desire wood shake or slate roofing without a requisite pocket, the luxury shingles are affordable alternatives.
Everything You Need to Know About Asphalt Roofing Cost in Austin, TX
Now, you know more about asphalt roofing cost in Austin and you're ready to find a reliable roofing contractor.
Austin Roof Royale is a reliable, local roofing contractor in Austin. We are a fully insured and licensed business, so you have absolutely nothing to worry about and we provide free no-obligation estimates to homeowners looking to work on their roof.
It's our mission to help Austin homeowners with the best roofing solutions possible for their roofing projects and to accomplish this, we provide the best roofing jobs at a very affordable price.
Get in touch with us here to start your roofing project on the right path.