Whether you're planning on investing in an expensive house roofing or you plan on going for inexpensive ones, this post will guide you through what you need to know in order to make the right decision.
When looking into roofing your home, whether is a new roof installation or roof replacement, the price tag can range pretty dramatically. This can leave many homeowners questioning what type of roofing, and the price point they should be considering for their home project.
Many homeowners might try to save some money and go for cheaper roofing which entails getting cheaper roofing materials and contractors. Saving on price can leave the question of if a cheaper roof means sacrificing the quality and durability of your roof.
Things to Keep In Mind About Poor Quality Roofing
Paying less for roofing products or contractors may seem like a bonus, but oftentimes, a cheaper roofing solution can leave you facing potentially costly consequences in the near future.
Most of the time we experience a rise and fall in temperature which in most cases can be extreme that it causes the roofing to expand and contract, which directly impacts the strength of the roof.
This expansion and contraction is responsible for most roof leaks and can lead to premature roof failure in poor quality roofing in a home.
There are other several natural factors like extreme storms and winds which also have numerous negative implications to the roof. If you have a poor quality roofing in your home, you will find out that in the long run, a high quality, expensive house roofing will cost less than an improperly low-cost roof.
What to Know About Expensive House Roofing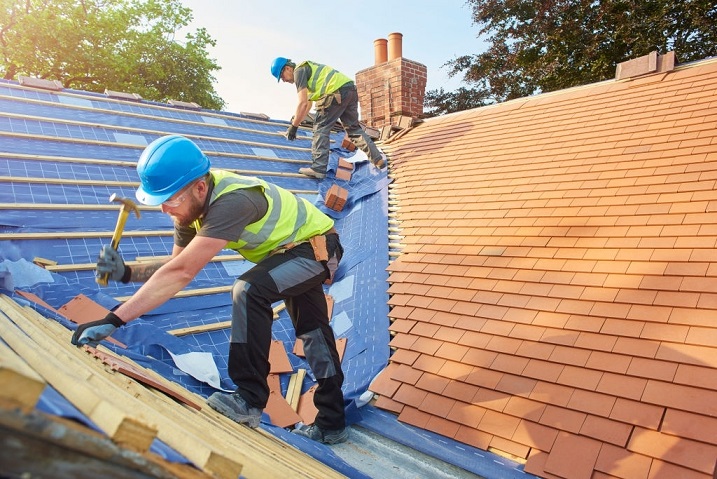 We already know that higher quality products will be more expensive than the low-quality one's upfront. We should also note that in the long run, the high-quality roofing will protect our home better and typically last longer for us than when compared to their lower quality counterpart.

Investing in an expensive house roofing doesn't necessarily mean that you have to go for the costliest roofing brands that you hear everywhere.
Is all about getting the most important aspect of roofing projects right, which is choosing a reliable roofing contractor.
An inexperienced roofing contractor with the highest quality roofing materials will deliver a poor job. 
This shows that in as much you should invest in high-quality roofing materials, you should also make it a priority to get a reliable roofing contractor who can deliver the perfect work free of error.
The Benefit of Expensive House Roofing
Your roof is part of the most important aspect of your home as it shields and protects you,  your family, and properties against different weather conditions.
Investing in a high-quality roofing system is essential and here are some core reasons for that,

It saves you money on repairs and maintenance.

When you invest in getting high-quality roofing materials and contractors for your roofing projects, you get to achieve an error-free, perfect roof over your head.

This tends to limit the possibility of frequent repairs and maintenance for your roof, which is why we advised on getting it right the first time.


Last longer and reaches its expected lifespan.

One important factor about high-quality roofing material is that it lasts long and reaches the expected lifespan. Depending on the type of roof you want, every roofing types have its expected lifespan, and below are the lifespan of different types of roofing materials;

A. Asphalt Shingle Roofs: Asphalt shingle roofs are one of the roofing materials that have the shortest life span. The Asphalt shingle roof is expected to have a life span of 15 to 30 years.
There are high-quality shingles that can last up to 50 years.

B. Wooden Roofs: This type of roofing material lasts longer than Asphalt shingles roof and has an expected life span of 25 years.

C. Metal Roofing: Metal roofing is generally a broad term that encompasses different materials like Steel, Copper, and Aluminium. Metal roofs have an expected life span of up to 60 years.

D. Tile Roofs: Tile roofs are notable for their extraordinary fire-resistant and non-combustible properties. Tile roofing has an expected life span of up to 100 years.

In as much that most of these roofing materials have a long-expected lifespan, it is worthy to note that their possibility of reaching their lifespan is also dependent on how reliable the roofing contractor that executes the project is.

If you hire an amateur roofing contractor who did a poor job, your roof will be prone to frequent problems that shorten its lifespan.


Geater Durability and Longevity.

Higher quality roofing materials are very durable and can withstand heavy rainfall, wind, or an intense heat for many years. This limits the occurrence of a leaky roof and other roof problems that comes with it.
It also provides long-lasting protection.


Improves Your Home Visual Appeal.

The roof contributes to the exterior look of a home. Getting a high-quality roof with better style and colors will improve the aesthetic appeal of your home.

A quality roofing provider will offer you not only high-quality products but also, a wide range to choose from to match your home.


Corrosion resistance.

Most high-quality roofing materials are developed with corrosion resistance in mind which directly impacts its durability and longevity.


Easy to Maintain.

Although the maintenance of roofs does vary depending on the type of roofing while some are easier to maintain than others. Having a high-quality roofing materials makes it easier to maintain.

A high-quality roof provides an aesthetic appeal as well as their durability and quality. Since this is sometimes a scary project to embark on by most homeowners, it will be easier when you get in touch with a trusted roofing contractor to guide you through.
Call the Experts Today!
Austin Roof Royale, one of the leading roofing contractors in Austin delivers reliable roofing projects to homeowners in Austin.
Our experienced roofing contractors will help to explain the pros and cons of the roofing materials and which are best suited for your home and climatic conditions. 
We are trusted roofing contractors helping homeowners with roof repair and replacement projects. With us, you can relax knowing that your roofing projects are in good hands.
You can reach out to us by calling (512) 379-7933 or request a free consultation with us today by clicking here.