Knowing how to protect your roof from storm damage is essential considering the extreme weather conditions experienced here in Austin.
With the right information which we will be sharing with you here, you no longer need to wait around for the storm to catch up with you and cause greater damage to your roof.
We will ensure to provide you with the right steps and precautions to take to make sure your roof is in good shape and can handle any weather conditions as they arise.
Here are the 5 simple ways by which you can protect your roof from storm damage.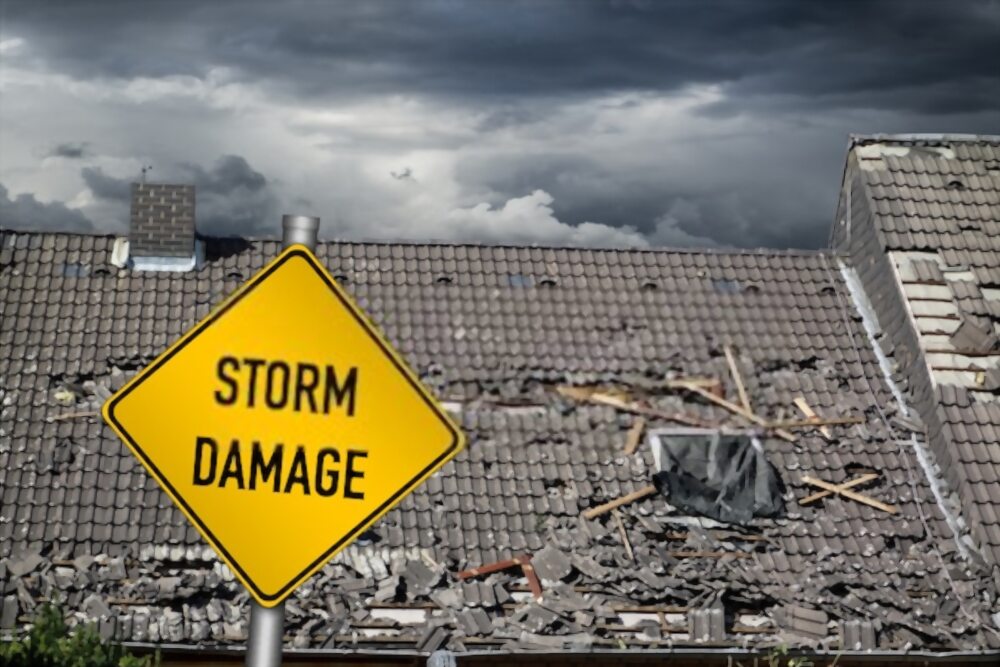 Replace Missing or Damaged Shingles
A missing or damaged shingles can cause a greater problem to your home in general and not just the roof. When you have missing or damaged shingles on your roof it easily creates a water leak which is an entryway for water to enter your home.
It also exposes your roof where leaves or debris can settle under the damaged shingles causing possible wood damage.
The earlier you're able to detect this problem and fix it, the better, as it will save your roof from more damages which will eventually lead to more problems in your home.
Since this is not your area of specialty and you might not possibly detect how bad your roof is, it is advisable to have an experienced roofing contractor help you determine whether to remove and replace damaged shingles or repair loose roof shingles.
Clean Your Gutters
Cleaning your gutters will help to prevent water damage to your roof. When your gutters are clogged, it gives rainwater nowhere to go, which can cause greater damages not just to the roof but to both the interior and exterior of your home.
You have to make sure that water can freely flow away from your home because your drainage system has a big part to play when it comes to protecting your roof and reducing the effect of storm damage.
There are several effective ways you can use to clean your gutters like cleaning gutters with a leaf blower, cleaning gutters with a wet/dry vacuum, cleaning gutters with a power wash, cleaning gutters with a garden hose, cleaning gutters by hand, or get help with a gutter cleaning service provider.
Whichever method you choose, whether by using the power tools, cleaning with hand, or hiring an expert, do it now and don't procrastinate to save your roof from more damages.
It's very important to note that, you've to make sure that your gutters are in a good condition to limit the effect of the storm damage.
Trim Your Trees Regularly to Protect Your Roof from Stm Damage
We love to have trees around our homes because they are beautiful and provides shades to our home. Trees also benefit our roof in some ways such as
During a severe windstorm, mature trees can help protect our roof and reduce its effect on our shingles by blocking a great deal of the wind.
The shades it gives to our roof also reduces the effect of UV light, as UV light shortens the lifespan of most roofing materials.
There are several other benefits of having trees around our home but you have to trim the ones that pose a threat to your roof, most especially the trees overhanging your home.
Failing to trim down your tree can cause a greater problem as there is always a possibility that an ill or weak tree can fall on your roof during a windstorm and cause damages to the roof.
The other effects of not trimming your trees such as dropping off branches, dropping of leaves, and others can damage your roof.
To better trim your tree and protect your roof from storm damage you need to trim all tree branches that are too close to your roof, remove overhanging branches, prune young trees, or get an arborist ("a tree expert) to help trim your trees most especially the overhanging trees to avoid damage to the roof.
Check Your Roof Deck and Walls
The roofing deck is an incredibly important part of the roofing material. It is the backbone of any roofing system and should be paid great attention to.
Regularly check your roof deck for any crack or sign of deterioration.
When your roofing deck is in order, it helps to prevent your roofing materials from storm damage.
Have a Professional Roofing Contractor Inspect Your Roof
Having your roof inspected in a timely manner is a smart way to discover any crack, leaks, and damages in your roof, stop it from escalating into a bigger problem and save cost on avoidable damages or replacement.
Doing this will also help to protect your roof from storm damage and improve the lifespan of your roof.
Inasmuch as we advise homeowners to pay close attention to their roof, check for damages and missing shingles and call for repair if they discover any issues with their roof, you should not neglect to have an experienced roofing contractor to come and inspect your roof.
This is because it is not possible to fully inspect your roof from the ground or by visibly looking at the top of the roof.
A professional roofing contractor can help detect hidden problems with your roof that needs immediate fixing to avoid escalating to a bigger issue.
This is undoubtedly the best route to take while trying to protect your roof from storm damage, as it will help detect issues as fast as possible and go ahead with the best way to fix those problems.
Conclusion
The information shared in this post will help you prepare yourself and protect your roof from storm damage, but please note that every situation is different.
To better protect your roof from storm damage you need to engage the services of a roofing contractor in your locality, who understands the weather condition of your location and has vast experience as a roofing contractor.
If you live in any of these areas Austin Tx, Round Rock Tx, Pflugerville Tx, Hutto Tx, Georgetown Tx, and other surroundings and need help to protect your roof from storm damage or any other roofing project kindly schedule a free appointment with us or call us as (512) 379-7933 to speak with one of our roofing expert Today.
At Austin Roof Royale we are dedicated to building a better relationship with our clients, improving customer confidence, and providing the best quality roofing job.
Let us know if you have any more questions and we will be glad to help.